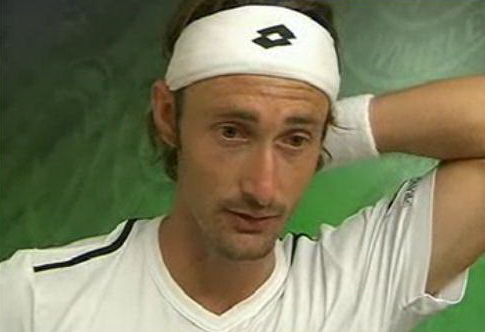 J C Ferrero (ESP) d M Youzhny (RUS) 63 76(3) 63
Q. We thought it might be a fiveet match today, but but you made pretty quick work of it. How is the confidence on grass?
JUAN CARLOS FERRERO: Yeah, I felt, as well, that it could be a very tough match all along. Anyway, I think I started a little bit with some doubt, but then I think I played very well the whole match, very aggressive all the time, and tried to hit the ball harder than him since the beginning, mostly in the return games. And also I think it was very important to serve good in important moments.
So I expected to have a tough match, but always very nice to have it like this.
Q. He's a fiery character. Is that in your mind when you're playing him?
JUAN CARLOS FERRERO: Yeah, yeah, he's a little bit up and down. I know that he can play an amazing point and then do two or three easy mistakes. So I tried to be very focused on my game all the time, and I think that's one of the keys that I beat easy him.
Q. If I'm reading the draw, you've got Santoro next?
JUAN CARLOS FERRERO: Yeah, I've got Santoro. He's always dangerous, especially here, because he plays very different than the other guys. He can do everything on the court. He beat me in Australia, but there I was a little bit with no motivation, but here it's very different. I came playing very good in Queen's and here after first round playing good, so I go with a lotof expectation and try to win for sure.
Q. And how does everything feel?
JUAN CARLOS FERRERO: Everything is okay. I fell down and had some pain in the leg, but then still good.
Q. You've had a really good grass season this year of course with Queen's and now your win here. Is this the most comfortable on grass you've felt yet?
JUAN CARLOS FERRERO: I don't know, I think I make very good results here in Wimbledon in other years. I make three times fourth round and one time quarterfinal two years ago. So I've felt very good on grass since a couple of years. It's not a big surprise for me; I've been playing like this. I knew since the beginning that I could play very good on grass. I have a court in Mallorca, a grass court, so I can practice there. I think it's very important to try to move very well, which is very difficult on grass so I think that's one of the keys to playing good.
Q. It seems like such a short time ago that we were talking about you and Roddick and Hewitt and Safin as the young guns on the tour. Now you're more the mature men on the tour. How does it feel with all the young people coming up?
JUAN CARLOS FERRERO: Not very different. I know for sure they come very strong, and they are in the top right now, so I think I will have to try to keep going in the same way as they are playing and try to be focusing and make a great result.
Q. What goals do you set for yourself now? Do you think you can get back to the top of the tennis game again?
JUAN CARLOS FERRERO: Yeah, I hope so. I have no points to defend until December. I'll try to finish in the top ten again for sure.c
Q. Does that free you up in a way, that the pressure is off at this point?
JUAN CARLOS FERRERO: You know, it's very nice to not have any points to defend, but it's not that I have pressure. I want to keep playing like this and try to get back to the same level as before.